Please note these are the entries for the Exmoor Point-To-Point. The fixture is open to all zones and will have a crowd limit of 1500 people, it will be live streamed and telephone betting is available, see below for details.
Bratton Down Going Updates
Thursday 27th May 9.00am
Thursday Morning, the going at Bratton Down is now good to soft, good in places.
Wednesday 19th May 1.00pm
The going today for Bratton Down is good to soft, soft in places. All fences and bends have been moved out onto fresh ground.
Monday 17th May 17.00pm
The official going for the Dulverton West fixture was Good to Soft, Soft in Places.
Thursday 13th May 7.00am
"Bratton Down – Further inch and half of rain over last couple of days. Going now generally good to soft." – Hugh Thomas, Clerk of the Course
Sunday 9th 10.30am
On Sunday 9th May the going at Bratton Down is now Good. Genuine good ground with inch and a half of rain in last 36hrs. Showers expected until mid week – hope to maintain. GB
Thursday 6th May 9.00am
The going at Bratton Down is currently Good to Firm. We have had 35mm of steady rain over the course. There is an even covering of grass, with more rain forecast for the weekend. The agrivator will be used if necessary.
Exmoor Spectator tickets
Tickets will be available via the www.pointtopoint.co.uk website, there is a fee of £15 which includes a racecard. Spectators will be in the Exmoor Amber Zone.
Children under 16 go free but must apply for an e-ticket.
Social distancing still must be adhered to at all times.
Spectator ticket sales close at 6PM on Saturday 22nd May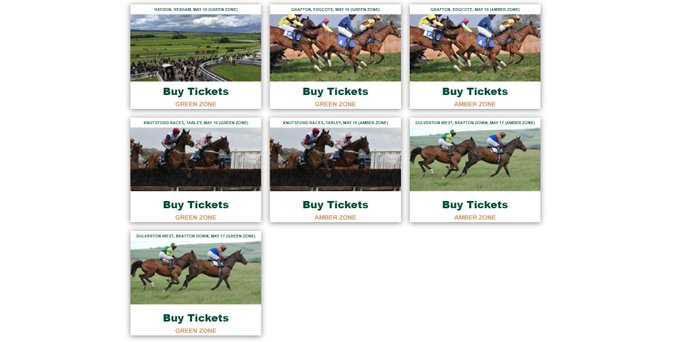 With on site bar, bookies and trade stands, it will be great to get this outdoor event back on track in the beautiful picnic location, which has a back drop view of Exmoor to enjoy.
Postcode for the course is EX31 45G
Exmoor Preview extract:
The re-arranged meeting for The Exmoor Foxhounds to stage their day at the popular Bratton Down course takes place this coming Saturday 29th May. This is the second meeting to take place here this season, and again will be opening it's gates to the public for viewing. Seven races are on offer with a start time of 2pm. Over 100 entries have been received for this event which promises to be another super day of racing.
There will be on course facilities bar, food stands, bookies and many trade stands, providing a great day out in the country for all the family. e-tickets can be obtained via visiting https://pointingdc.co.uk. Under 16's go free but must also apply for a ticket.
Course is located at Bratton Down, Bratton Fleming EX31 4SG
Exmoor Live Stream
Live streaming of the races with race commentary and all day presentation with interviews of participants led by former BBC racing correspondent Cornelius Lysaght is on offer for the eight Point-To-Point races, with a start time of 2.00pm with the first of the races.
There is a fee of £10 plus a small Eventbrite admin fee to view the race meeting, which is the same cost as if you attended as a spectator, and the sport needs the income from live streaming to ensure its future.
Exmoor Telephone Betting
Some bookmakers will be offering a betting service by phoning them and opening up an account.
For those spectators wanting to place a bet, the contact numbers to register are 07711 298746 for Richard Pittard and 07810 775119 for Dave Phillips. The deadline to register for bets at this event is one hour before racing commences.
Full details will be on the Devon & Cornwall Point-to-Point website at Point-to-Point Telephone Betting
Exmoor Green and Amber zone entry tickets
Participants (Green Zone), owners (Amber Zone) and spectators (Amber Zone) will need to apply for tickets and complete a health declaration to be allowed to enter the course.
The tickets and the latest information required for accessing the course on the day can be obtained from https://www.pointtopoint.co.uk
EXMOOR ENTRIES FORM GUIDE
Key:
Abbreviations:
NH = National Hunt
L = Length
Rest – Restricted
Nov = Novice
RT – Rating
PTP – Point to Point
An up to date form guide and synopsis of the horses entries at this meeting. Form figures for up to 6 outings appear. A dash(-) is used to separate 2019/20 form from 2018/19 form. Figures preceded by an oblique (/) represents 2017/18 form or earlier. Horses marked with an asterisk (*) indicates National Hunt form. The higher the rating the better the form. No responsibility can be accepted for any errors which may be considered to have occurred.
---
Race 1 – RSM Beares & B Thorne Members Race
---
Exmoor Preview extract
The Muclair is also entered in the opening RSM Beares & B Thorne-sponsored Members race where he could come up against Hadmeathello(Stuart Payne) a Dingley winner, and recent Flete Park second Gunner Vic for the Hugh Thomas team.
Race 2 – Rosettes Direct Restricted Race
---
Exmoor Preview extract
In the Rosettes Direct-sponsored Restricted race Edabean ran a close fourth here last weekend and could come back for another try for trainer Jason Warner and leading gentleman jockey James King. Florrie Webb (Will Biddick) won the members race at Cothelstone in April and has the benefit of a mare's weight allowance, together with The Dartmoor Rose (Charlotte Rowe) won her maiden at Trebudannon and is another with a mare's weight allowance.
Race 3 – Bray Leino Ladies Open Race
Exmoor Preview extract
Both the Ladies and Men's Open races have attracted top class entries. In the Bray Leino-sponsored Ladies race Virak stands out for the Sam Loxton team, having won his last four races which include Hunter Chase wins at both Wincanton and Musselburgh under regular jockey Natalie Parker, however he will probably run at Stratford on Friday evening, this could leave the race for Copain de Classe to snatch, he is another ex National Hunt entry for the Loxton team, and could improve on his third to Famous Clermont at Cothelstone, The Roestone for the Robert Chanin team should be there among the finishers if reproducing his win at Cherrybrook under Martin McIntyre.
---
Race 4 – Moore Scarrott Accountants Men's Open Race
Exmoor Preview extract
The Moore Scarrott Accountants-sponsored Men's Open has attracted another Loxton team entry in Chameron who won a Hunter Chase at Leicester in February. Chameron's recent run at Cothelstone saw him finishing second having had a few jumping errors which could have cost him the race that day, although he also holds an entry at Upcott Cross on Monday and connection smay choose there for him to run. Upcott Cross winner River Myth entered for trainer Stuart Sampson, will be looking to follow up on her run at Upcott Cross when coming home the four-length winner that day and has the benefit of a mares weight allowance although she too holds an entry for the Upcott meeting. Recent runner up in a Hunter Chase at Leicester The Muclair for the Camilla Scott team can't be left out of the equation, they had an unlucky fall last time out at Upcott Cross when ridden by Finn Muirhead.
---
Race 5 – Donna Kingdon Conditions (Level 2) 8 years old and up Race, Division 1
Exmoor Preview extract
There are two divisions of the conditions race which are run in the memory of Donna Kingdon. In the first division Where's Wilma could follow up on her Upcott Cross win under jockey Matt Hampton. Cloudy Music for team Summersby just missed out on a win by a short head at Upcott Cross, Rein du Tout won an Intermediate at Holnicote earlier this month and could repeat that form for jockey Darren Andrews.
---
Race 6 – Donna Kingdon Conditions (Level 2) 8 years old and up Race, Division 2
Exmoor Preview extract
In the second divison Copain de Classe (Sam Loxton) could come on for his run at Cothelstone where he finished third that day. Pancrace could improve on his second place at Upcott Cross and win this under jockey Robert Hawker.
---
Race 7 – Totnes & Bridgetown Races Co. Ltd Maiden Race
Exmoor Preview extract
Finally there is Totnes & Bridgetown Racing Co Ltd-sponsored Open Maiden race which could go the way of Honest Opinion for the Dean Summersby team to follow up on her four-length second at Upcott Cross earlier this month and will be handy here if not another heading to Upcott Cross on Monday, along with Acaras an outside raider looking dangerous after their second at the Upcott Cross meeting. Jimmy Tew has been a worthy place winner in his points so far for the Janet Ackner team andis another catching the eye.
Photo Credits: Megan Cobley Photography; Athwenna Irons/WMN
---